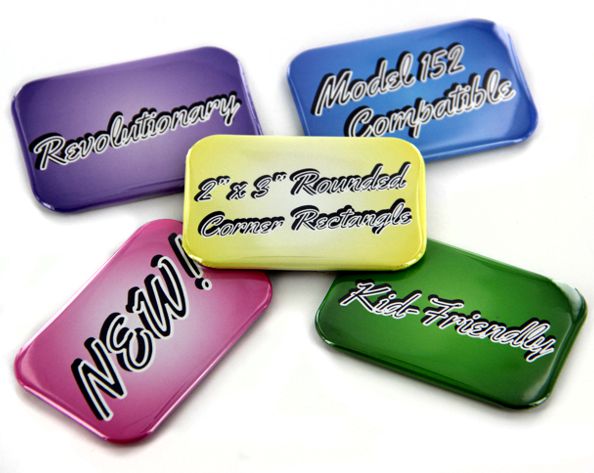 When Tecre introduced the new 1-3/4" x 2-3/4" rounded corner rectangle in 2014, we knew our developers would not be able to stop themselves there.  After gathering insight from our customers, we had to contend that the 2" x 3" rectangle would be the perfect size to move to next.  While this is one of Tecre's highest performing button sizes, its true super powers seem to be its ability to stretch across a variety of industries.  Adding the rounded corner to the 2" x 3" rectangle family has only expanded this size's marketability.
This is good news for everybody! But if you are the proud owner of Tecre's esteemed Model 152 Electric Button Maker machine, this may be especially good news for YOU.  For the first time ever, Model 152 Button Maker owners will be able to participate in this well-established size that is driving profits all around the world.
The new 2" x 3" rounded corner will be offered as horizontal and vertical pinned back sets, as well as magnet sets. If you would like a free sample of the new 2" x 3" rounded corner rectangle button, please contact us at tecresalesteam@tecre.com !
Sign up for Tecre's blog updates to be sent directly to your email!