You are a skilled and seasoned button producer. 2,000 buttons? In a cinch. Magnet, mirror, and key chain buttons? With your eyes closed. But even a button prodigy risks stagnation if they don't update their button game. Customers today expect innovation, and we are here to help propel you to the next level of button production. Consider the 6" button – known for its commanding button size and clever clock-making capabilities. It is not for the weak or faint-hearted. This size is bold. It's audacious. And it's just begging for you to tap into its potential.
The clock may just be the most unexpected product to ever spawn from a button maker. The 6" button making machine requires only the clock punch/cutting board and the button clock components. While Tecre used to offer mechanisms and clock hands that were purchased from a supplier, we no longer offer these items and encourage you to buy these direct! These hands can be purchased at www.klockit.com and are often available in many different styles and colors.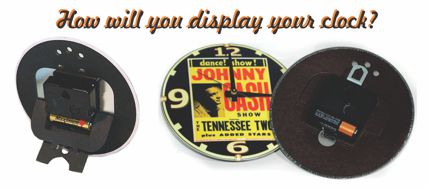 Don't let your button game sit the bench. Is it time for you to enlist your pinch hitter?
Sign up for Tecre's blog updates to be sent directly to your email!