Few things in life are consistent – fluctuating mortgage rates, rising inflation, and don't even get us started on gas prices!  Just when you have learned to expect the unexpected, Tecre comes along to show you that consistency IS something you can expect when it comes to their superior packaging of button making supplies and equipment.   It's the kind of security that only 30 years of experience in global shipping can bring.  We would like to share with you our processes as well as some steps you can take to ensure that your skid has arrived completely intact, unscathed and primed for your use!
Our top-quality packaging begins early with securing each box's contents.  All boxes are individually weighed.  This weight is recorded and then later compared with the overall weight of the entire skid.  This is just one of the many checks and balances Tecre has in place to confirm accuracy.
Whether your order contains button pieces or presses, you can trust that we have determined the heaviest boxes and distributed them at the base of the skid.  Smaller, lighter boxes are at the top.  The skid almost always has a boxy appearance.  But the tell-tale signs of a healthy Tecre skid go beyond its box-like façade.  The illustration below shows some characteristics that encompass what a well-prepared and well-handled shipment should look like upon arrival.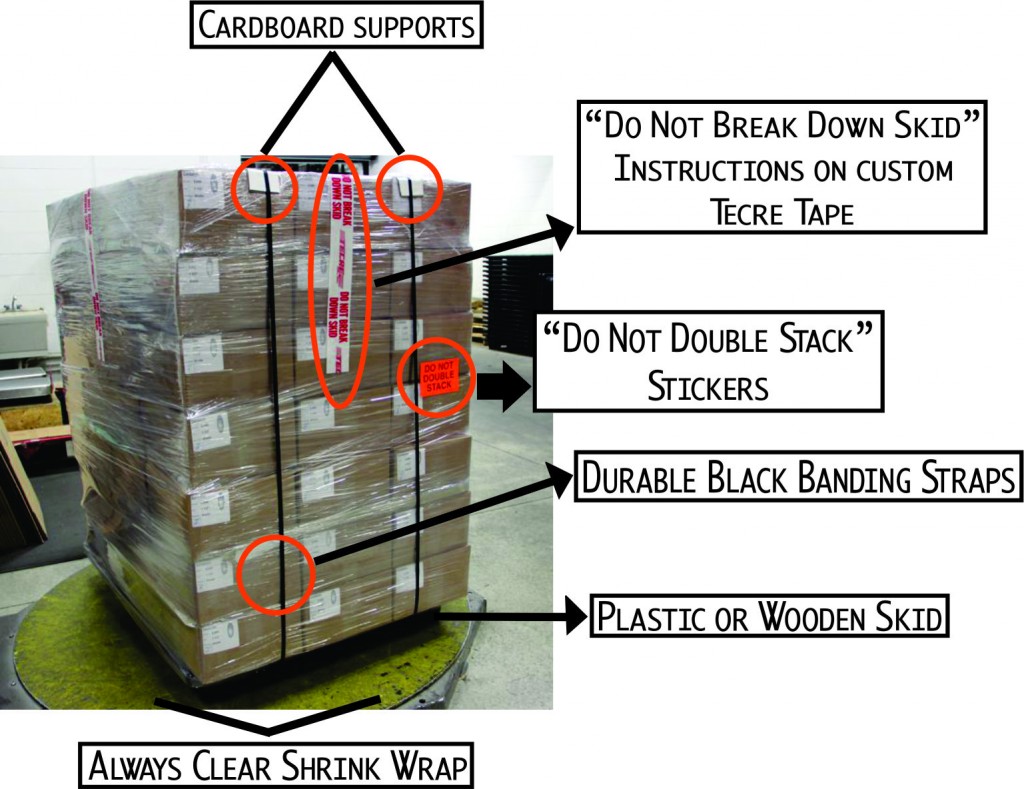 If an arriving pallet is missing any of the above indicators or if it appears to be altered in any way, then this MUST be noted on the paperwork at the time the skid is signed for.  Photos are always helpful in developing a case if a claim will need to be filed!
Tecre is selective when it comes to determining which freight companies they will use to ship your merchandise.  But even reputable companies are not exempt from human error.  Implementing Tecre's clear and consistent packaging procedures has helped our customer's discern which shipments are arriving in the same way they have left our facility.  So even though you may not be able to follow the ever fluctuating value of the dollar, one thing you can count on is how your skid should appear when it arrives at your door!
Will somebody else be signing for the skid when it arrives?   No problem!  Click HERE for a free downloadable checklist to share with them!
Sign up for Tecre's blog updates to be sent directly to your email!
</div>