Do you struggle to keep plants alive?  Do you have to set an alarm to remind you to feed your pet?  Fret not.   Even if you are challenged by some of life's simplest tasks, you may still be fully capable of caring properly for your Tecre graphic punch.  Not only is the graphic punch user-friendly and efficient, but it was designed to require very minimal maintenance.
If you are already practicing the steps outlined in Basic Maintenance for your Tecre Button Maker Machine  you may be pleased to learn that both the products and steps closely mirror those of caring for your cutter.
Keep your Machine Clean
Use of 3-in-One Oil
Use of Lithium Grease
Keep your machine clean.  Maintaining the cleanliness of your cutter involves being conscious of the items you are putting in your machine.  To prevent the dies from gumming up and sticking, it is important to remember they are designed for cutting paper.  Cutting other materials such as stickers can cause residue to accumulate quickly, thus affecting the ability of your graphic punch to cut smoothly.  Keeping the die free from debris and build-up will ensure smooth and precise cutting for a long time.
3-in-One Oil and Lithium Grease.  3-in-Oil and Lithium Grease are the only two products that should be used on the graphic punch.  They should be used in moderation, only as needed.  Please note the areas of application below: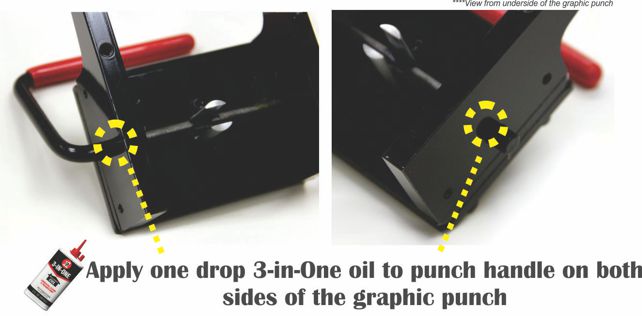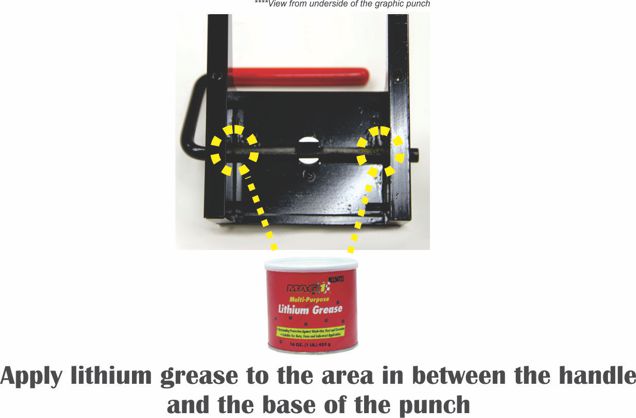 It is important never to use products like WD-40 on the cutter.
We cannot help your brown, wilted, and weepy plants, but we can assure you that following these easy steps will equip you to be a quality caretaker of your graphic punch.
Sign up for Tecre's blog updates to be sent directly to your email!