Tecre News and Events
Introducing ArtClix
April 5th, 2013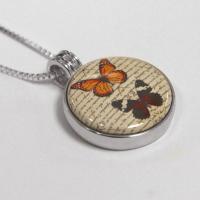 We would like to introduce the newest addition to Tecre's product line: ArtClix. The ArtClix pendants have magnets integrated directly into the pendant making it easy to interchange the Tecre button to compliment your outfit. The ArtClix pendants are available in a 1" circle or a 1" square. Let your creativity run wild with this exciting new product! To see prices please check out our Button Accessories page.
Tecre.com gets an Upgrade
April 16th, 2012
Tecre's new website makes it even easier to shop for your favorite button-making machines and accessories. New to button making? Check out our Resources and FAQs pages for all you need to know to get started!
New Bottle Openers!
November 3rd, 2011
Tecre Co., Inc. is proud to introduce our new bottle opener back to our full line of button components. The new bottle opener has a durable back manufactured from polypropylene right here in the United States. These backs are much lighter, resulting in lower shipping costs. The new bottle opener is also offered in a magnetic version.
For samples of both new bottle openers please email info@tecre.com.