It's a bird! It's a plane!  Nope, it's Tecre's new black polypropylene bottle opener with the optional attachable magnet!  If you were a fan of Tecre's traditional metal bottle openers, you may enjoy some of the perks of the new style.  If you were unaware that Tecre offered 2-1/4" bottle openers, let this be a lesson in maximizing your machine's capabilities and profits.
Quality, Functionality & Durability  Both the traditional metal style and the new black style guarantee Tecre's flawless crimp around the entire edge of the button.  Both are also completely functional and durable.  Want to test out this claim?  Call for a free sample.  Use to open your favorite beverage.  Repeat.
Features  Both bottle openers can be purchased with a split key ring.  This enables your customer to attach the bottle opener to their keys so they can take it with them anywhere!
Interested in a magnetic bottle opener? Only the black plastic bottle opener is available with a unique neodymium magnet.  This curiously strong magnet is inserted into a small hole in the back of the bottle opener.  Just recently, Tecre has begun offering the magnetic bottle opener button supplies with the magnet already inserted into the back of the button!

Pricing  Both bottle openers are priced the same!  At about $0.20 per piece, like all of Tecre's products, they leave plenty of room for profit.  For pricing on the special accessories, such as the key rings and magnetic bottle opener backs, please visit Tecre.com
Marketability Think breweries.  Most breweries have seasonal specials.  Take them the bottle opener with their special brew name and logo.  New seasonal specials means new bottle openers.  Hello, Mr. Craft Beer, meet Mr. Bottle Opener.  You two will be the very best of friends.
Don't forget the old-fashioned glass soda bottles which oftentimes require a bottle opener!
When one of Tecre's own, David Quinn, celebrated his marriage to Kristin on November 5, 2016, they used the Tecre Button Maker to create bottle opener mementos for their guests.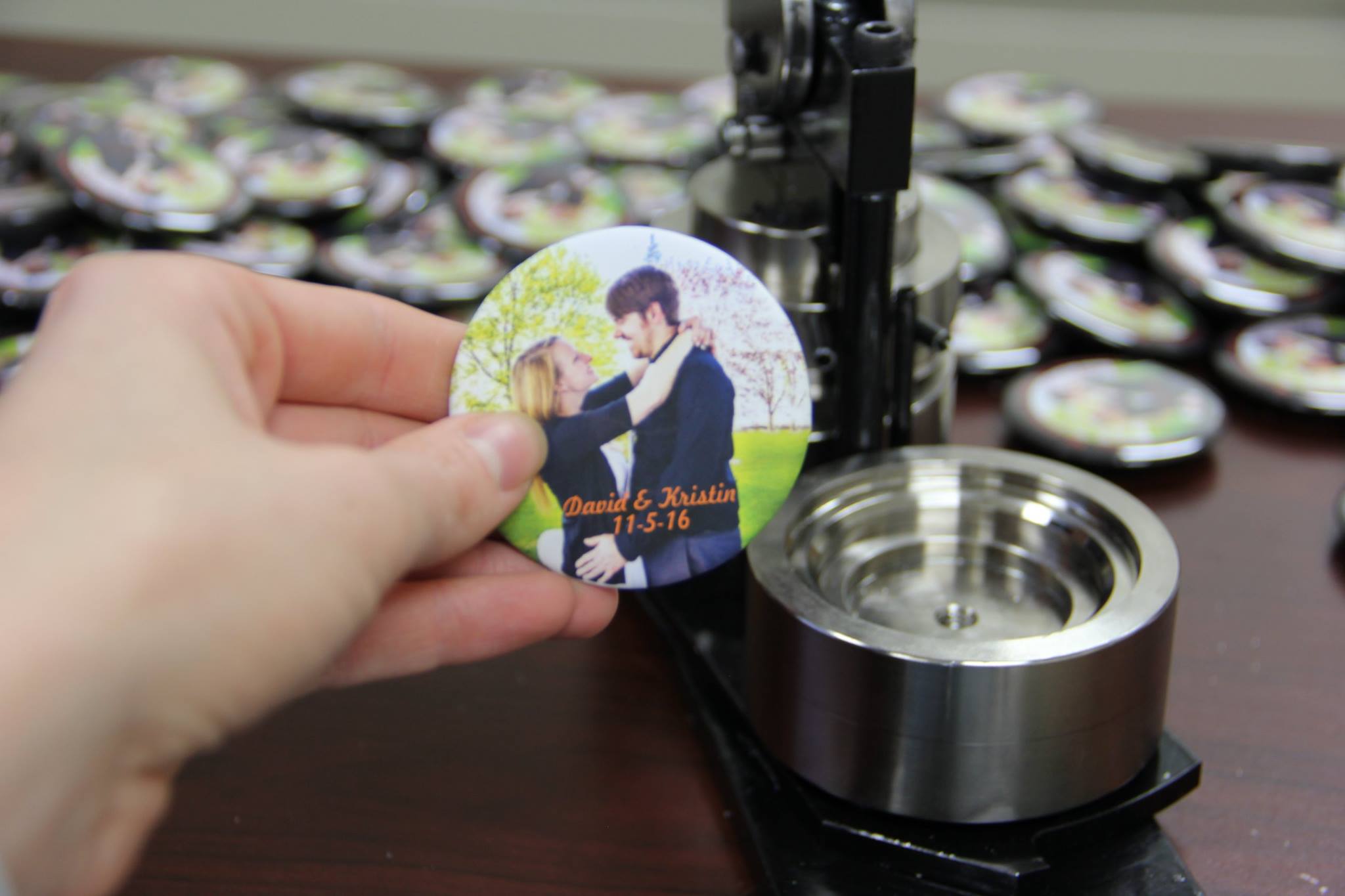 Just to recap, we have learned that the black bottle opener back is the only one that offers an optional magnet attachment. While this is not the sole difference between the two styles of backs, this is the most significant.  The other difference worth mentioning is the weight of each style back.  Customers who order the metal bottle openers in large quantities can tell you firsthand that these metal backs are heavy.  1,000 metal bottle opener backs can weigh about 30 lbs. while the new black backs weigh about half of that.  Considering the tens of thousands bottle openers that you will soon be ordering, imagine the cost savings in freight by choosing the lighter material.
Still, the decision is ultimately yours. When choosing to expand your product lines and offer your customers some new groovy accessories, you really can't go wrong!
Sign up for Tecre's blog updates to be sent directly to your email!